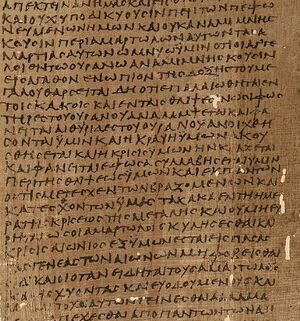 The Books of Enoch are part of apocalyptic Jewish writings that date from 300 BCE to the first century BCE.[1] The first book is comprised of five major sections. The first section called the Book of the Watchers , makes inference to the fallen angels and the nephilim of the Pentateuch. The second book of Enoch refers to the rebellious group of watchers as Grigori.
Conspiracy
Edit
The Vatican regards the Books of Enoch as non-canonical or non-inspired,[2] which has led to the belief that inner circles of the Vatican are covering up the existence of present-day nephilim or that of a new indistinguishable type, called "hubrids".
↑ Fahlbusch E., Bromiley G.W. The Encyclopedia of Christianity: P–Sh page 411, ISBN 0-8028-2416-1 (2004)
↑ The Book of Enoch - The Reluctant Messenger. Retrieved 14 June 2014
External links
Edit
Ad blocker interference detected!
Wikia is a free-to-use site that makes money from advertising. We have a modified experience for viewers using ad blockers

Wikia is not accessible if you've made further modifications. Remove the custom ad blocker rule(s) and the page will load as expected.