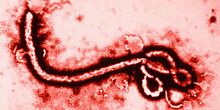 Ebola
virus is one of the four ebolaviruses known to cause disease in humans. It has the highest case-fatality rate of these ebolaviruses, averaging 83 percent since the first outbreaks in 1976, although fatality rates up to 90 percent have been recorded in one epidemic (2002–03). There have also been more outbreaks of Ebola virus than of any other ebolavirus. The first outbreak occurred on 26 August 1976 in Yambuku.The first recorded case was Mabalo Lokela, a 44‑year-old schoolteacher. The symptoms resembled malaria, and subsequent patients received quinine. Transmission has been attributed to reuse of unsterilized needles and close personal contact, body fluids and places where the person has touched.
During the 1976 Ebola outbreak in Zaire, Ngoy Mushola travelled from Bumba to Yambuku, where he recorded the first clinical description of the disease in his daily log:
"The illness is characterized with a high temperature of about 39°C, hematemesis, diarrhea with blood, retrosternal abdominal pain, prostration with "heavy" articulations, and rapid evolution death after a mean of three days."
The severity of the disease in humans varies widely, from rapid fatality to mild illness or even asymptomatic response.Studies of outbreaks in the late twentieth century failed to find a correlation between the disease severity and the genetic nature of the virus. Hence the variability in the severity of illness was suspected to correlate with genetic differences in the victims. This has been difficult to study in animal models that respond to the virus with hemorrhagic fever in a similar manner as humans, because typical mouse models do not so respond, and the required large numbers of appropriate test subjects are not easily available. In late October 2014, a publication reported a study of the response to a mouse-adapted strain of Zaire ebolavirus presented by a genetically diverse population of mice that was bred to have a range of responses to the virus that includes fatality from hemorrhagic fever.It was found that the wide range of these rodents' responses to this single virus genotype mimics that of humans to the wild virus, suggesting that genetic differences among the victims is key. The much more detailed study of the response that is possible in an animal model is expected to result in the identification of genes that control the response to the virus.
Conspiracy Theories On Orgin Of Ebola
Edit
Some conspiracy Theorist Suggest Ebola Was created in a lab and escaped by hitching a ride on the Interstate
Ad blocker interference detected!
Wikia is a free-to-use site that makes money from advertising. We have a modified experience for viewers using ad blockers

Wikia is not accessible if you've made further modifications. Remove the custom ad blocker rule(s) and the page will load as expected.