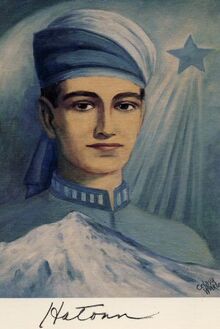 Gyeorgos Ceres Hatonn, Commander in Chief, Earth Project Transition, Pleiades Sector Flight command, Intergalactic Federation Fleet-Ashtar Command; Earth Representative to the Cosmic Council and Intergalactic Federation Council on Earth Transition. Humans call him "Hatonn".

Hatonn is 9-foot tall being who oversees intergalactic affairs throughout this Universe. Hatonn is well known throughout the Universe.

Hatonn has one of the most advanced computer systems in this Universe.

Hatonn has current up-to-date information available in realtime on what's been going on, on planet earth…he provides humanity with Truth, so that we can free ourselves from rise up in the Light and Love of the Universe.
Ad blocker interference detected!
Wikia is a free-to-use site that makes money from advertising. We have a modified experience for viewers using ad blockers

Wikia is not accessible if you've made further modifications. Remove the custom ad blocker rule(s) and the page will load as expected.