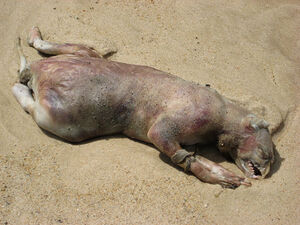 The Montauk Monster was an unknown creature that washed up on shore in Montauk, New York. Pictures of the creature were taken after three friends found its carcass on the beach.
Pictures of the creature were all over the internet and it caused lots of controversy. Many conspiracy theorists began to speculate that maybe the creature came from Plum Island Animal Disease Center and that it was one of their "experiments". 
There were rumors that it was just a prop for the 2009 movie "Splinterheads", but this was never proven.
The current location of the Montauk Monster's carcass is unknown. 
Ad blocker interference detected!
Wikia is a free-to-use site that makes money from advertising. We have a modified experience for viewers using ad blockers

Wikia is not accessible if you've made further modifications. Remove the custom ad blocker rule(s) and the page will load as expected.