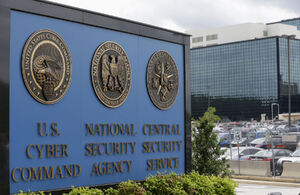 The
National Security Agency (NSA)
is the National Security service for the United States. NSA has now effectively combined National Security with Military Intelligence through NSA/CSS, a very big step towards an Orwellian future.
For all Signals Intelligence (SI) activity, the following military intelligence and security organizations fall under the command of the Central Security Service:
U.S. Army Intelligence and Security Command (INSCOM, formerly U.S. Army Security Agency)
Marine Cryptologic Support Battalion (MCSB)
U.S. Fleet Cyber Command (formerly Naval Security Group)
Air Force ISR Agency (AFISRA, formerly Air Intelligence Agency)
Coast Guard Intelligence (CGI)
The Chief of the Central Security Service (CH-CSS) is the Director of the National Security Agency (DIR-NSA), who also serves as Commander of the United States Cyber Command (USCYBERCOM) and is the highest-ranking military official of these organizations.
Combining NSA budget with US military budget...
With submission of the fiscal year 2014 budget request, the Department of Defense--through U.S. Cyber Command and the National Security Agency--formally submitted its proposed realignment of cyber mission forces into National Mission Teams, Combat Mission Teams, and Cyber Protection Teams. [1]
Senate bill giving $120 million to NSA for 'Key Infrastructure' and tool dev by IOTC..
Senate bill would authorize an increase of $120 million for information assurance programs, projects and activities... 85 million in the National Security Agency's Information Systems Security Program (ISSP) research and development account (PE 33140G) for secure wireless communications, public key infrastructure, tool development by Information Operations Technology Center, critical infrastructure modelling, software security research[2]
External Links
Edit
References
Edit
↑ pg. 20568, Congressional Record, V. 145, Pt. 14
The Puzzle Palace by James Bamford
Body of Secrets by James Bamford
Ad blocker interference detected!
Wikia is a free-to-use site that makes money from advertising. We have a modified experience for viewers using ad blockers

Wikia is not accessible if you've made further modifications. Remove the custom ad blocker rule(s) and the page will load as expected.